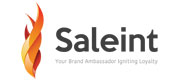 Saleint Inc.
Brand Ambassador for Hotels, DMC's and DMO's
1116 Wilson Avenue, PO Box 66042, Toronto, ON M3M 1G0
Web: www.saleint.ca
Email: Ambassador@saleint.ca
T: +1-416-238-2428
Saleint Inc. is a boutique representation firm which seamlessly becomes an extension of its clients existing sales team. Saleint Inc is not just a PR firm. We are a group of passionate sellers. We conduct meetings and plan our sales calls and sales trips. We prospect. We strategize cold calls / cold emails. We make new connections and maintain existing relationships. This and much more… Ultimately, we make the phone ring for our clients.